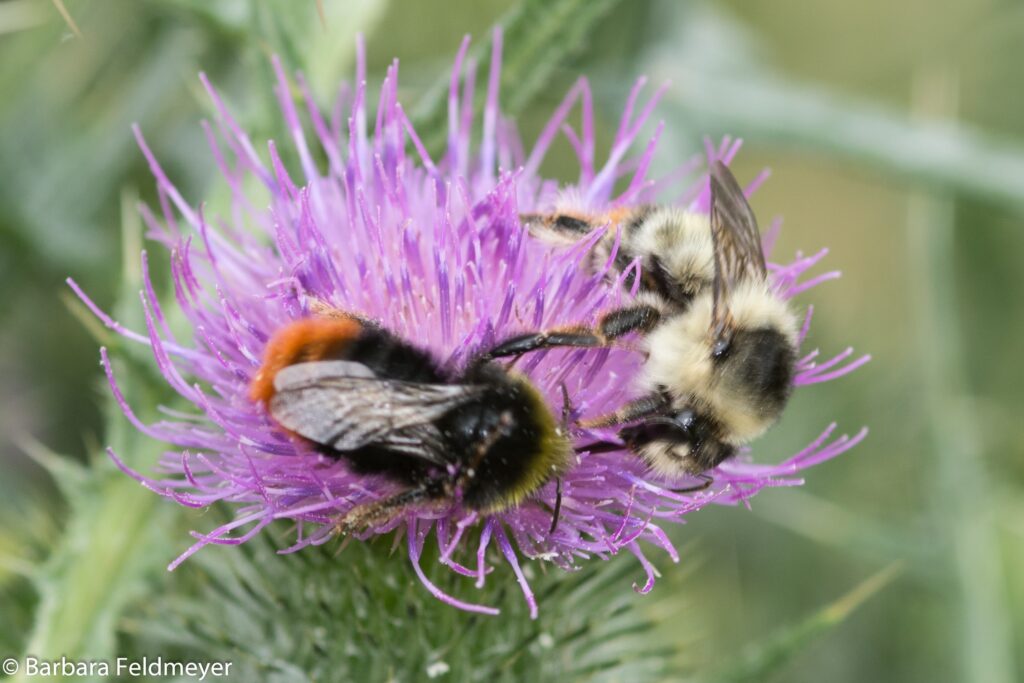 Czy przyglądałeś się kiedyś trzmielowi zbierającemu nektar z kwiatów? Właściwie nie wydaje się to trudnym zadaniem, wymagającym wyszukanych procesów poznawczych.
Jednak trzmiele mają niesamowitą zdolność uczenia się. Nie tylko uczą się, gdzie znaleźć dające nektar kwiaty, ale także jak wykonywać wymyślone przez człowieka sztuczki, które wymagają zachowań niespotykanych w naturze. Nauczyły się na przykład ciągnąć sznurek, przeciągać na bok przykrywki i obracać dyski, by dostać się do nagrody (słodkiej wody).
Niedawno jednak naukowcy (i trzmiele) posunęli się o krok dalej. Naukowcy na różne sposoby zademonstrowali, że piłka u celu (narysowanym na platformie eksperymentalnej kółku) prowadzi do nagrody. Trzmiele szybko nauczyły się przeciągać piłkę do celu, i to w bardziej wydajny sposób niż pokazany w demonstracji.
Nauczyciele
Najpierw naukowcy wytrenowali trzmiele, by przesuwały drewnianą, większa od nich, piłkę do celu – demonstratorem był sztuczny owad (na patyku trzymanym przez eksperymentatora) popychający piłkę. Trzmiele załapały o co chodzi, ale wolały ciągnąć piłkę, cofając się z nią, niż ją popychać. Te trzmiele były demonstratorami w nowym doświadczeniu.
Uczniowie
W głównym eksperymencie inne trzmiele zostały podzielone na trzy grupy. Każdy owad z pierwszej grupy mógł obserwować innego trzmiela przeciągającego jedną z trzech dostępnych piłek do celu i razem z nim dostawał nagrodę – kroplę słodkiej wody. Owady z drugiej grupy widziały piłkę, która "sama" przesuwała się do celu (za pomocą kierowanego przez badacza magnesu znajdującego się pod platformą). Gdy piłeczka dotarła do celu, owad dostawał nagrodę. Owady w trzeciej grupie znajdowały piłeczkę już u celu, z nagrodą obok. Każdą z demonstracji/prób przeprowadzono tylko trzy razy.
Następnie trzmiele zostały przetestowane bez demonstracji i dostały nagrodę, tylko jeśli same przyprowadziły piłeczkę do celu. Praktycznie wszystkie trzmiele, które miały wcześniej żywego demonstratora, pomyślnie przeciągnęły piłeczkę do celu i zrobiły to najszybciej. Te, który widziały piłeczkę przesuwającą się samodzielnie, rozwiązały około 8 z 10 prób i zajęło im to więcej czasu. Za to te trzmiele, które wcześniej znalazły nagrodę, odniosły sukces tylko średnio w 3 lub 4 z 10 prób i trwało to najdłużej.
Uczeń staje się mistrzem
Co ciekawe, trzmiele nie kopiowały po prostu tego, co wcześniej zaobserwowały. Trzmiel-demonstrator i naukowiec z magnesem zawsze przesuwali do celu najdalej znajdującą się piłkę. Trzmiele-uczniowie najczęściej przesuwali tą, która znajdowała się najbliżej celu, nawet jeśli miała inny kolor niż ta w demonstracji. I nie chodzi o to, że najbliższa piłka przez przypadek dostawała się do celu, bo trzmiele zwykle ciągnęły piłkę, same znajdując się pomiędzy piłką a celem.
Podsumowując:
Po pierwsze: trzmiele nauczyły się szybko nowego dla siebie zadania, wymagającego użycia narzędzia-piłki i zachowania, które ma niewiele wspólnego z normalnym żerowaniem trzmieli.
Po drugie: nie kopiowały ślepo zaobserwowanego wcześniej zachowania, ale wykorzystały bardziej wydajny sposób – ciągnęły najbliższą celu piłkę.
Takie nietypowe doświadczenia pokazują, jak wielką zdolność uczenia się i elastyczność w rozwiązywaniu problemów mają te pospolite owady.
---
You can find the English version of this post here.