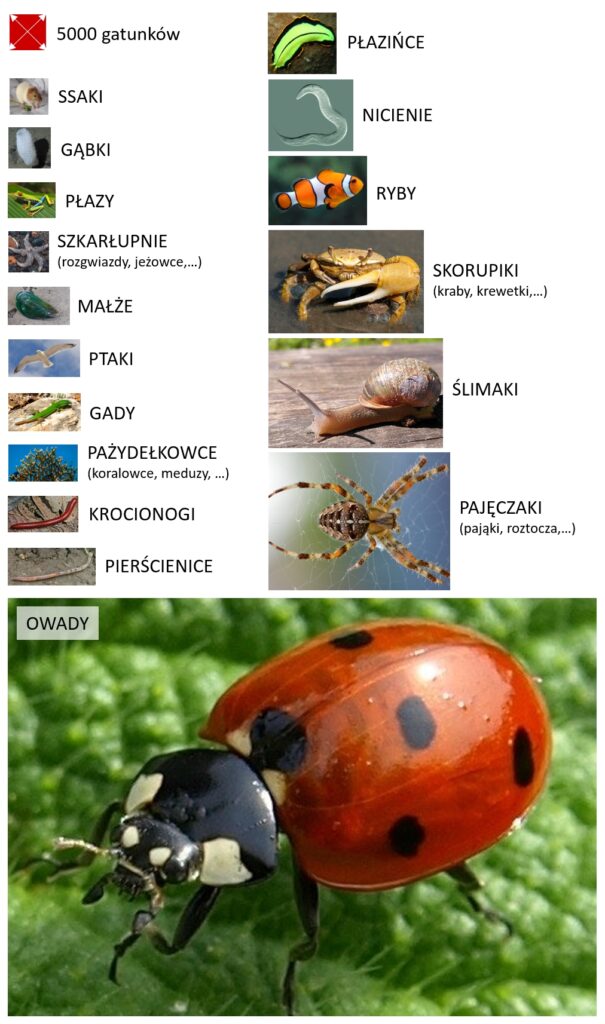 Dzisiaj jest Międzynarodowy Dzień Bioróżnorodności. Na świecie żyje obecnie około 1,5 miliona nazwanych i opisanych gatunków zwierząt. Choć szacuje się, że tak naprawdę może ich być nawet między 3 a 30 milionów.
Te zwierzęta, na które najczęściej zwracamy uwagę, na przykład ssaki czy ptaki, to tylko niewielka część wszystkich żyjących gatunków. Samych gatunków ślimaków jest więcej niż wszystkich kręgowców (ssaków, ptaków, gadów, płazów i ryb łącznie – patrz ilustracja powyżej).
Co roku odkrywamy nowe gatunki zwierząt. Ale niestety część gatunków znika też bezpowrotnie.
Jeśli chcesz przyczynić się do zachowania bogactwa przyrody dla siebie i przyszłych pokoleń, to proponuję dwa łatwe sposoby na pomoc w utrzymania bioróżnorodności (jest ich oczywiście więcej).
Globalnie
Jedź mniej mięsa.
Ogromne połacie środowisk naturalnych, w tym lasów tropikalnych – środowisk o największej bioróżnorodności – są ciągle niszczone, po to by na tym terenie uprawiać rośliny, które są przeznaczone głównie na paszę dla zwierząt hodowlanych (także w Europie). Ze wszystkich upraw na świecie, które przeznaczone są obecnie na paszę, można by wykarmić 4 miliardy ludzi. Karmienie nimi zwierząt jest procesem bardzo nieefektywnym. Przynajmniej 70% kalorii i protein zawartych w roślinach jest traconych na podstawowy metabolizm zwierząt i nie przekłada się na kalorie czy proteiny w mięsie.
Lokalnie
Jeśli masz trawnik – nie koś go tuż przy ziemi i koś go rzadziej. W ten sposób będziesz miał więcej czasu na relaks, na przykład na przyjrzenie się bliżej zwierzętom wokół siebie. Dodatkowo oszczędzisz na paliwie, a dłuższa trawa jest bardziej odporna na suszę. I oczywiście dasz szansę zakwitnąć roślinom kwiatowym, których nasiona pewnie są już w ziemi i czekają na swoją szansę. A kwiaty zapewniają pożywienie wielu owadom, takim jak pszczoły (w Polsce żyje około 460 gatunków pszczół, od tych większych – miodnych, do paromilimetrowych), trzmiele, motyle czy nawet chrząszcze.
Jeśli jednak chcesz mieć krótko przyciętą trawę tam, gdzie spędzasz więcej czasu, to możesz zostawić dłuższą pod drzewami czy w kącie, do którego nikt nie chodzi. Mój sąsiad kosi połowę trawnika dość krótko, a resztę zostawia dłuższą, kosząc w niej tylko ścieżki. Według mnie wygląda to naprawdę ładnie*.
Mam nadzieję, że dzisiaj (i nie tylko) znajdziesz chwilę, by przyjrzeć się zwierzętom wokół siebie – w ogrodzie, parku, lesie czy nawet na balkonie. Jeśli chcesz wiedzieć, jakie gatunki obserwujesz, możesz skorzystać z odpowiednich aplikacji na telefonie. Ja ostatnio odkryłam ObsIdentify – podaje nazwy roślin i zwierząt w języku angielskim. Choć zwykle wolę zostawić telefon w kieszeni i po prostu patrzeć.
---
*Jeśli masz dzieci, które biegają po całym ogrodzie, nie trzymaj zbyt długiej trawy (powyżej 20-30 cm). Niestety mogą na niej siedzieć kleszcze.
---
Zdjęcia zwierząt: Bob Goldstein, NOAA/Monterey Bay Aquarium Research Institute, Richard Ling, Hoi Maeng, Crisdip, Francesco Ungaro, Zhr16, Pixabay, Magdalena Kozielska-Reid
---
You can find the English version of this post here.