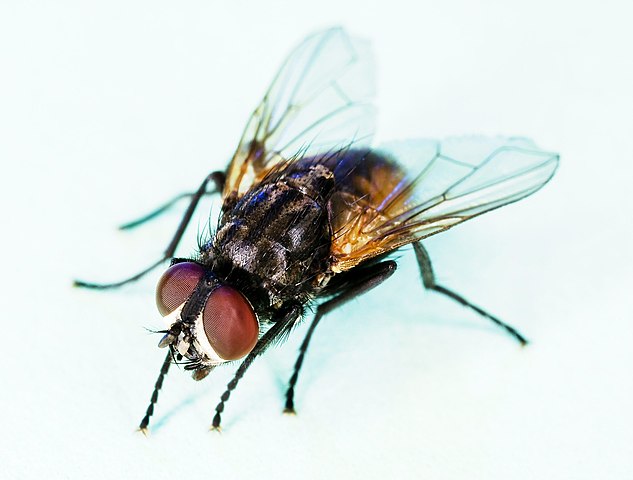 Pewna kobieta weszła do kuchni i zobaczyła swojego męża z klapką na muchy.
"Co robisz?" zapytała.
"Poluję na muchy."
"Aha. A zabiłeś już jakieś?"
"Tak, trzy samce, dwie samice."
Żona zaintrygowana zapytała: "Skąd wiesz?".
"Trzy były na skrzynce piwa, dwie siedziały na telefonie".
---
Możesz rozbawić swoich przyjaciół i rodzinę, opowiadając ten kawał lub możesz ich zadziwić, faktycznie prawidłowo określając płeć znajdujących się w pobliżu much domowych. Czytaj dalej, jeśli chcesz nauczyć się tej "sztuczki".
Podczas moich studiów doktoranckich obejrzałam tysiące much licząc samce i samice (pracowałem nad determinacją płci) więc wiem, o czym mówię. W laboratorium miałam ułatwioną pracę – mogłam unieruchomić muchy przy użyciu dwutlenku węgla i mogłam nawet użyć lupy laboratoryjnej, by lepiej się im przyjrzeć. Ale lupa nie jest potrzebna, jeśli możesz wystarczająco zbliżyć się do muchy (lub masz dobry wzrok). I jeśli nie zgnieciesz jej zbyt mocno klapką, powinieneś być w stanie odróżnić płeć zwłok. Jednak mam nadzieje, że podejmiesz wyzwanie i spróbujesz określił płeć muchy, gdy ta wciąż chodzi po twoim stole, oknie lub rękawie. Da się to zrobić!
Teraz najważniejsza część – na co patrzeć by odróżnić samicę od samca muchy domowej: możesz spojrzeć musze między oczy i/lub na dolną część jej odwłoka (tylną część ciała; patrz zdjęcie poniżej).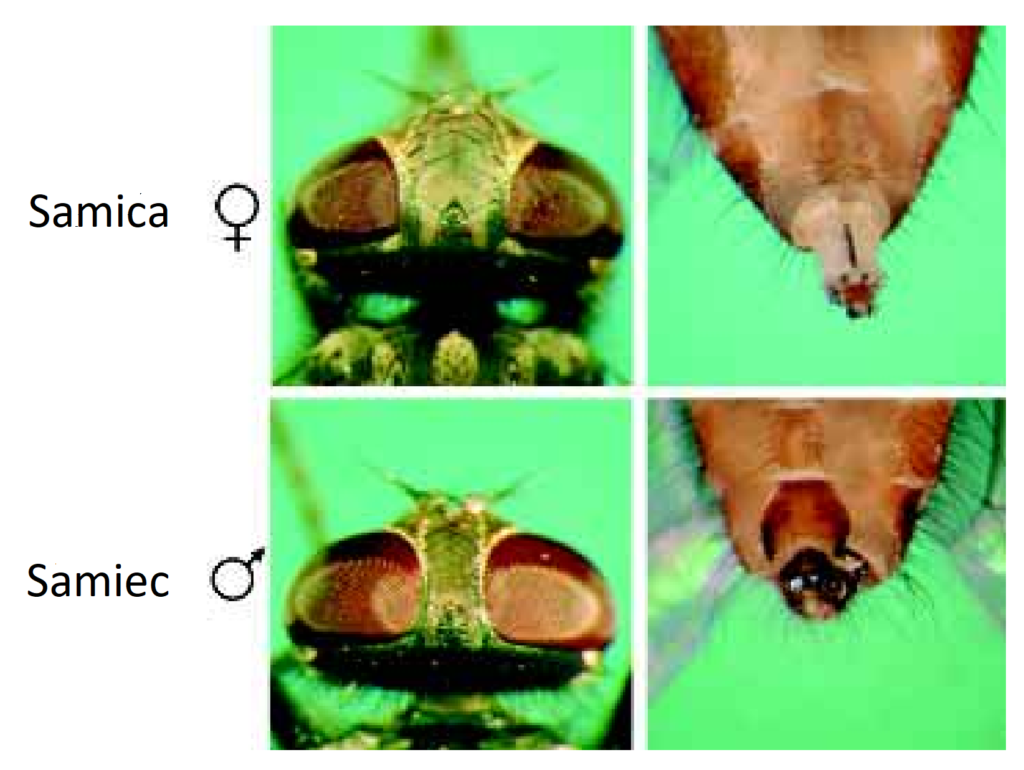 Oczy samic muchy domowej są położone bliżej siebie niż u samców. Ich odwłok jest bardziej okrągły, ale spiczasty na końcu i bardzo jasno zabarwiony, gdy patrzy się na niego od dołu (jaśniejszy, niż się to wydaje na zdjęciu powyżej). Na zdjęciu widoczne jest pokładełko samicy, ale zazwyczaj jest ono ukryte, gdy nie składa ona jaj.
Odwłok samca jest raczej smukły i "tępo" zakończony. Oglądany od dołu ma wyraźnie widoczną ciemną plamkę na końcu.
A teraz mały test przed rozpoczęciem własnych obserwacji "w przyrodzie":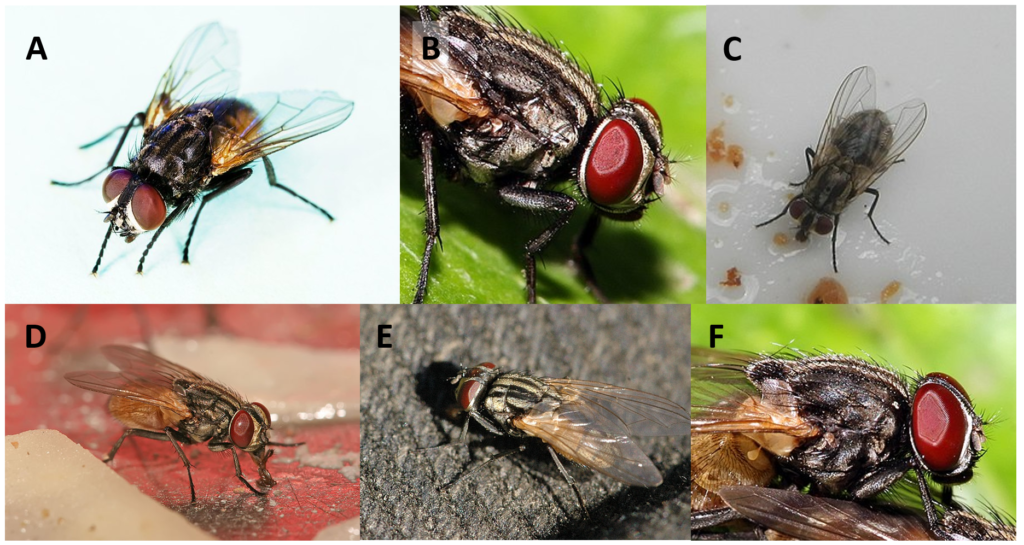 ---
Powyższy tekst dotyczy muchy domowej (Musca domestica) – pospolitej muchy, prawie czarnej z jaśniejszymi paskami na tułowiu, długości około 7 mm. Nie wiem, jak odróżnić samce od samic u wszystkich much (jest ich ok 125000 opisanych gatunków), ale reguła odległości oczu ma zastosowanie również do kilku innych much (np. bąków, tzw. much końskich), a genitalia wielu much wyglądają podobnie. Tak więc, to czego nauczyłeś się powyżej może się przydać także przy odróżnianiu samców i samic innych much.
---
You can find the English version of this post here.
---
Zdjęcia: USDAgov – https://www.flickr.com/photos/usdagov/8674435033/sizes/o/in/photostream/, Public Domain, https://commons.wikimedia.org/w/index.php?curid=25727555;  Sanjay Acharya – Own work, CC BY-SA 4.0, https://commons.wikimedia.org/w/index.php?curid=64658576; Judgefloro – Own work, CC0, https://commons.wikimedia.org/w/index.php?curid=64830885; Muhammad Mahdi Karim – Eigen werk, GFDL 1.2, https://commons.wikimedia.org/w/index.php?curid=7672794; James Lindsey at Ecology of Commanster, CC BY-SA 3.0, https://commons.wikimedia.org/w/index.php?curid=1970083; Muhammad Mahdi Karim – Own work, GFDL 1.2, https://commons.wikimedia.org/w/index.php?curid=62760319