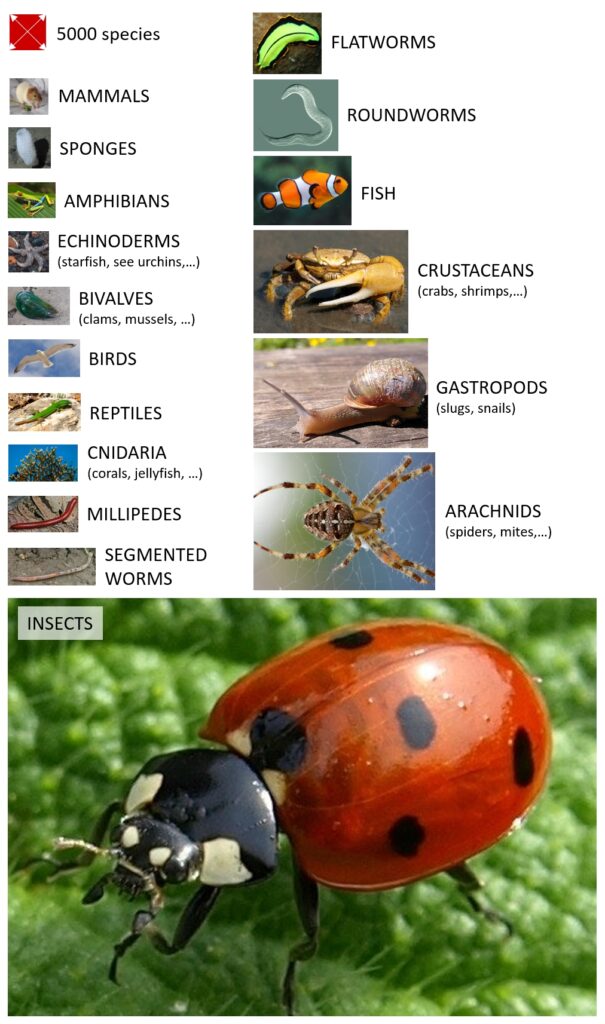 Today is the International Day for Biological Diversity. We know of around 1.5 million named and described species of animals in the world today. Scientists estimate that there may actually be between 3 and 30 million.
The animals that we most often pay attention to, such as mammals and birds, are only a small fraction of all living species. There are more species of gastropods (snails and slugs) alone than all vertebrates combined (mammals, birds, reptiles, amphibians and fish – see picture above).
Every year we discover new species of animals. But unfortunately, some species also disappear forever – mainly because of human activities, like destruction of natural habitats.
If you are interested in preserving nature's richness for yourself and future generations, I suggest two easy ways to help maintain biodiversity (but there are many more).
Globally
Eat less meat.
Big areas of natural habitats, including tropical forests – which are the environments on land with the highest biodiversity – are constantly being destroyed in order to cultivate crops (such as soybeans) which are mainly used for livestock feed (also in Europe). 4 billion people could be fed by the crops that are now grown for (industrial) farm animals. The production of meat is a very inefficient process. At least 70% of the calories and proteins contained in plants are lost in the basic metabolism of animals and are not converted into calories or proteins in meat.
Locally
If you have a lawn, do not mow it very close to the ground, and mow it less often. This way, you will have more time to relax (which you could spend, for example, taking a closer look at the animals around you). You will save on fuel, and longer grass is more resistant to drought. And of course, this gives flowering plants a chance to bloom before being cut down. Their seeds are probably already in the ground waiting for their chance to grow. Flowers provide food for many insects, such as bees (around 2000 species live in Europe, from the larger bumblebees, to few-millimetre-long ones), butterflies (almost 500 species in Europe) and even flies and beetles.
If you want to have short-cut grass where you walk or chill, why not leave the longer grass under the trees or in a corner where nobody spends time? My neighbours mow half of their lawn quite short and leave the rest longer and only mow paths in it. I think it looks nice*.
I hope that today (and not only today) you will find a moment to look at the animals (and plants and fungi) around you – in the garden, park, forest or even on your balcony. If you want to know what species you see, you can use one of many phone applications available. I recently discovered ObsIdentify. Although I usually prefer to leave my phone in my pocket and just watch.
---
* If you have children running around the whole garden, better not to let grass grow too much (over 20-30 cm). Unfortunately, ticks like to sit on the taller blades.
---
Animal photos: Bob Goldstein, NOAA/Monterey Bay Aquarium Research Institute, Richard Ling, Hoi Maeng, Crisdip, Francesco Ungaro, Zhr16, Pixabay, Magdalena Kozielska-Reid
---
Polską wersję tego wpisu możez znaleźć tutaj.