A few days ago, I took my family to the zoo (Aqua Zoo Leeuwarden, NL). I like going to zoos, to actually see the animals that I normally only see on the screen. Especially now that modern zoos care not only about the physical health of their animals, but also their wellbeing. I still remember a zoo in Poland that I visited more than 20 years ago, in which most animals lived in small concrete cages. That was just sad. Nowadays good zoos provide animals with the company they need, semi-natural environment and enrichment, like climbing ropes and swings for primates, hidden food for polar bears and hiding places for many animals.
While for most people zoos are mainly a source of entertainment, they also serve other purposes: they take part in breeding programs that try to preserve endangered species, they do research and they try to educate people.
AquaZoo in Leeuwarden fulfils the educational role very well. In addition to signs with basic information and less-known facts about each animal there are several live demonstrations and feeding moments during which the animal caretakers talk about them. Here are some facts that can be learned during such demonstrations:
Polar bears
It's not really surprising that polar bears can learn, but I did find it amazing to see a polar bear (the largest of bears) reacting to the "sit" command. But bears at the zoo are not trained for entertainment. When the bear sits, the soles of their hind legs can be inspected from close by. Other simple trained behaviours allow for inspection of the head and especially teeth, which in polar bears keep growing throughout their life. This daily check can be done without stress for the animal or risk for the caretaker.
And did you know that the skin of polar bears is black? That can be relatively easily seen around their nose. Their hairs are actually completely transparent (like human "gray" hair) and hollow. They look white because of their properties and light effects. In the wild the snow gets between the hair when bears roll in it and the hair looks lighter than in the zoos where the bears usually roll in dirt instead.
Ring-tailed lemurs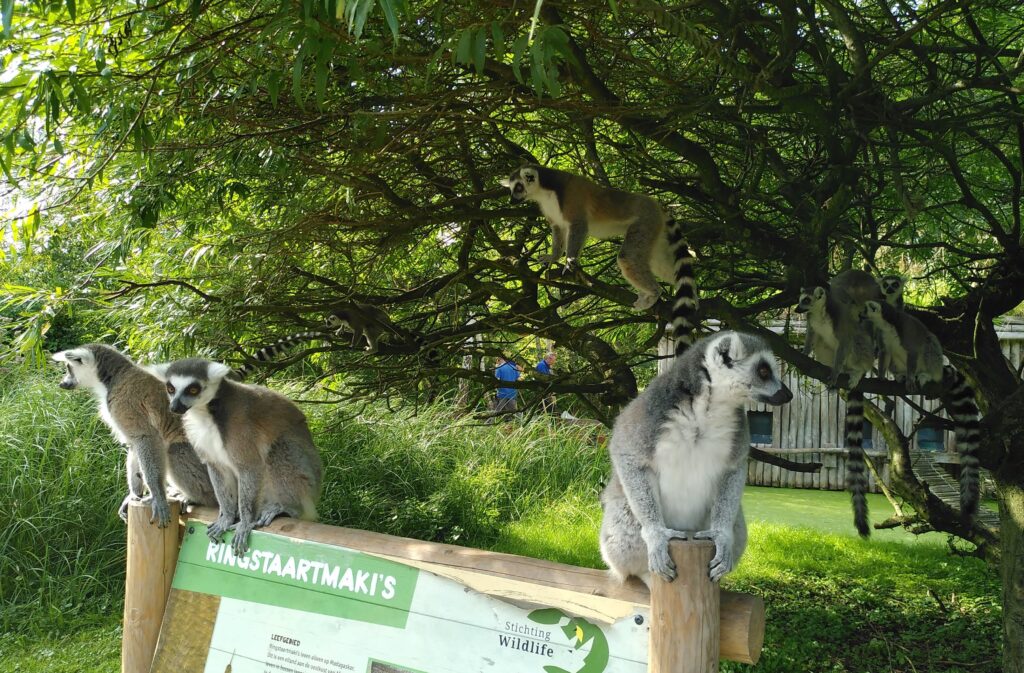 Ring-tailed lemurs are primates that in the wild live only on Madagascar. They usually live in groups of 10-20 individuals. In this species females are dominant over males. They have first access to food and good resting places. Among females there is also a hierarchy, and the dominant female decides where to go and when to stop. To make sure that all animals can access food at the zoo the food is not provided in one place but rather spread over the ground.
Red panda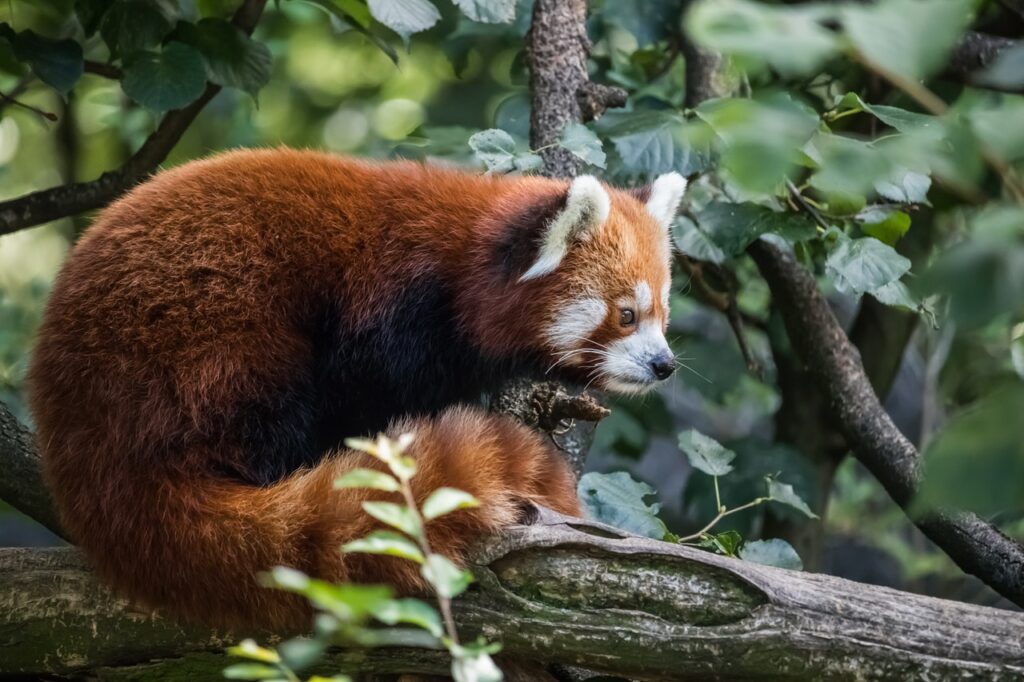 The red panda doesn't look similar to the giant panda and it is not even closely related to it. But like the giant panda it mainly feeds on bamboo. While its diet consists mainly of plants it belongs to the carnivores and its closest relative is the raccoon.
Raccoon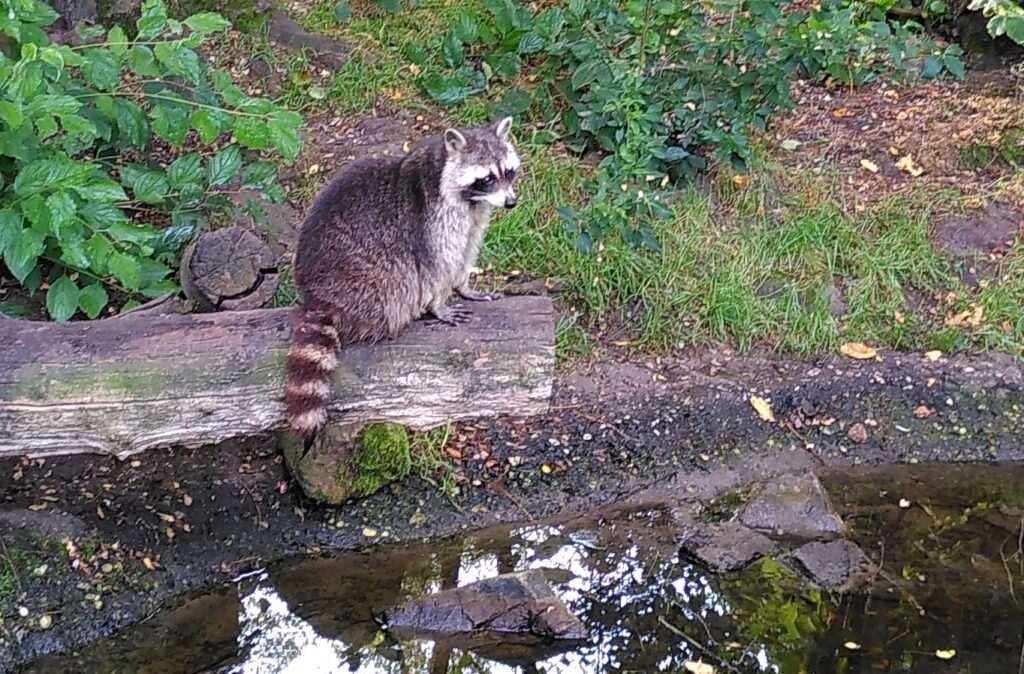 Raccoons are a native North American species that now also lives in the wild in Europe where it escaped from breeding farms or was intentionally released. It is an invasive species outside North America. They are famous for "washing" their food (they're even called the "washing bear" in Dutch). However, this behaviour doesn't actually seem to have anything to do with cleaning the food and is mainly seen in captivity.
Raccoons have very dexterous front paws with which they pick up and inspect their food (they eat both plants and animals).
Skunk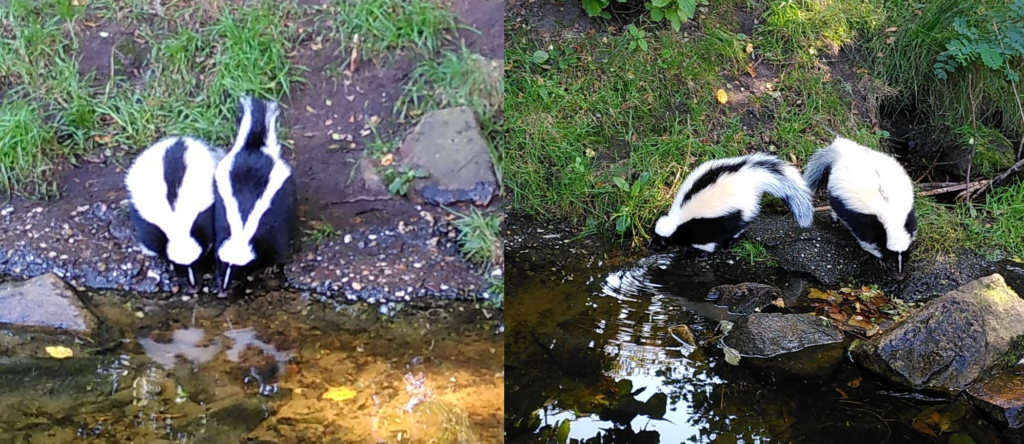 The black and white pattern on a skunk's back is an example of warning coloration and can differ between individuals. There are also completely white or black animals. When an enemy gets too close the skunk first gives warning hisses and takes a characteristic pose and raises its tail, and if that doesn't scare the intruder, the stinky spray is released. I had a chance to smell it at the zoo. It was indeed not a pleasant smell. It takes many days to completely wash it off from the skin and hair.
---
A visit to the zoo is not only about learning facts, but for me, mainly a chance to see close by live animals that I would otherwise could only see in movies. It's amazing to see slowly moving sloth, racoons stretching their paws to catch food or fishing it out of the running stream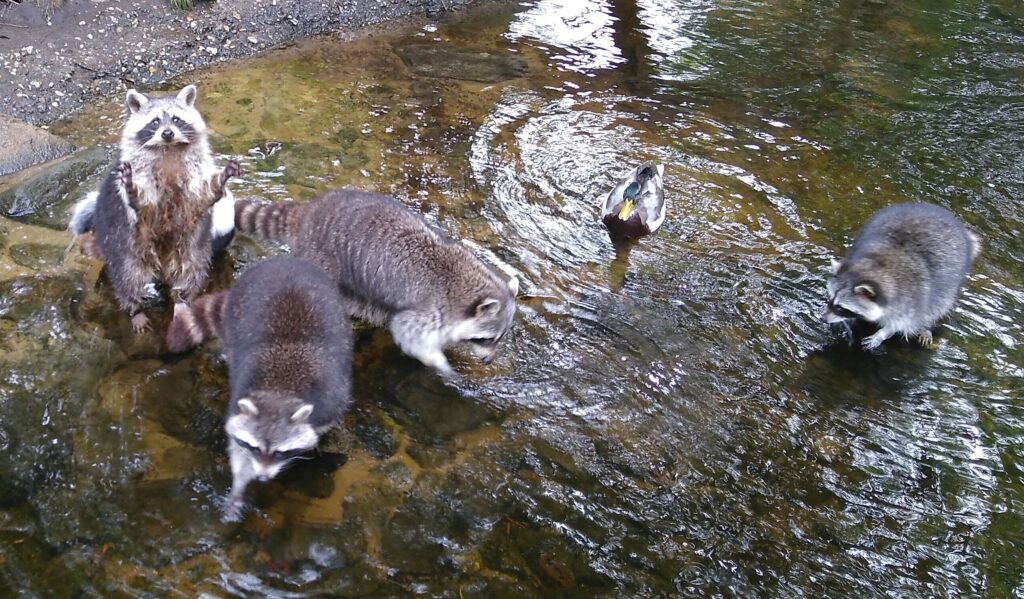 South American fur seal swimming lazily in the water and scratching her belly
giant otter (the biggest otter in the world, living in the wild in South America) rolling in the mud
and next to it Asian small-clawed otters (the smallest in the world) screaming with indignation when others get food but they don't.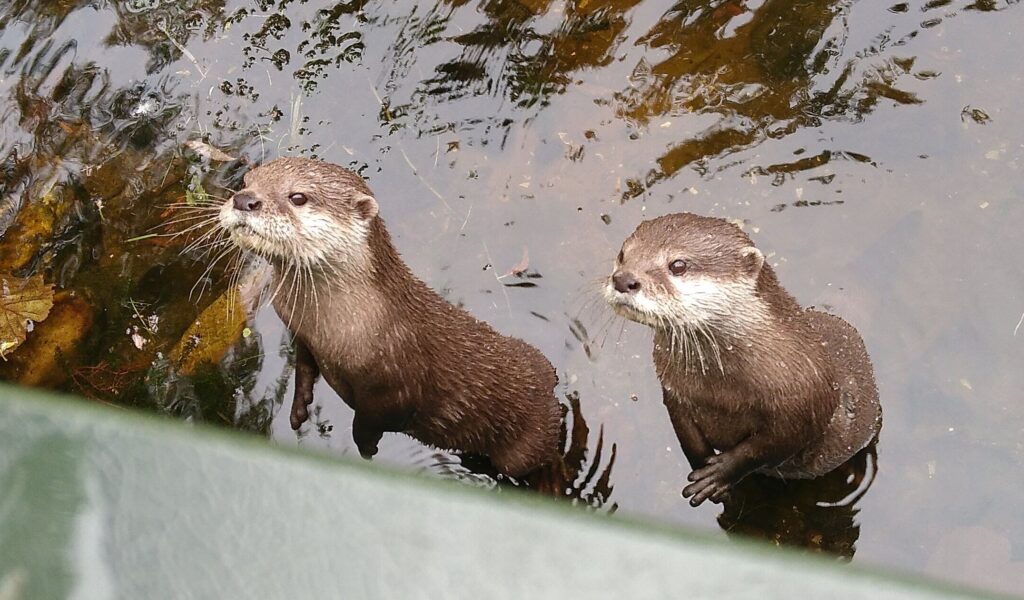 ---
All photos are mine except for the red panda (photo by Christian Krumbholz from Pexels).